Rand Steiger
Composition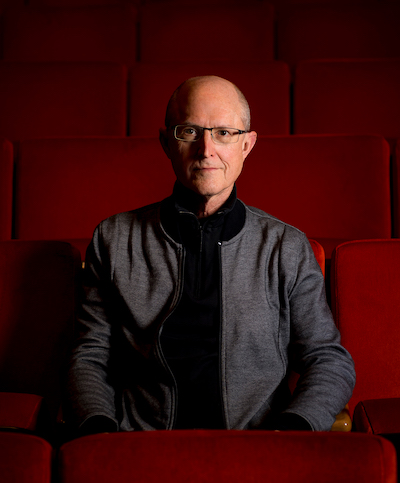 Phone: 858/534-3675
Off: CPMC 336
rand@ucsd.edu

Website | Audio | Wikipedia | Discography 
Rand Steiger's music has been commissioned and performed by many distinguished soloists and ensembles and has been presented in concert halls and at festivals internationally. Throughout his career, Steiger has been involved in computer music research, having held three residencies at IRCAM, and enjoying a long fruitful collaboration with leading computer music researcher Miller Puckette. He was Composer-in-Residence at the California Institute for Telecommunications and Information Technology from 2010 to 2013.

Many of Steiger's works combine orchestral instruments with real-time digital audio signal processing. They also propose a hybrid approach to just and equal-tempered tuning, exploring the delicate perceptual cusp between a harmony and a timbre that occurs when tones are precisely tuned. Some examples of works deploying these techniques include: Ecosphere, developed during residencies at Ircam and premiered by the Ensemble Intercontemporain in Paris; Traversing, written for cellist Mathew Barley and premiered by the Southbank Sinfonia in London; Cryosphere, premiered by the American Composers Orchestra at Carnegie Hall, A Menacing Plume, premiered by the Talea Ensemble in New York, and the Coalescence Cycle, premiered at Miller Theater in New York by the International Contemporary Ensemble. More recently, a series of new works for string quartet were premiered by the Arditti, JACK and Flux Quartets. In 2016 he was commissioned by the Los Angeles Philharmonic to create an installation in collaboration with Yuval Sharon. The resulting project Nimbus embedded 32 loudspeakers in clouds hanging 40 feet above the atrium of the Frank Gehry designed Walt Disney Concert Hall playing a series of 21 compositions throughout the day for the entire 2016/17 season.

Steiger was also active as a conductor specializing in contemporary works until deciding in 2010 to concentrate entirely on composition. He led a series of critically acclaimed concerts with the Ensemble Sospeso in New York City in the early 2000's, and with the California EAR Unit at the Los Angeles County Museum in the 1980's and 90's. Among other groups he conducted were the Aspen Chamber Ensemble, La Jolla Symphony, Los Angeles Philharmonic New Music Group, New York New Music Ensemble, and the Nouvel Ensemble Contemporain (Switzerland). Among his recordings as conductor are operas by Anne LeBaron, Hilda Paredes and Anthony Davis, and chamber works by Elliott Carter, George Lewis, Mark Osborn, Roger Reynolds, Karlheinz Stockhausen, Morton Subotnick, Iannis Xenakis and Wadada Leo Smith. He has also conducted many world, New York and California premier performances, including works of Muhal Richard Abrams, Louis Andriessen, Milton Babbitt, Pierre Boulez, Henry Brant, Elliott Carter, Brian Ferneyhough, Michael Gordon, Jonathan Harvey, Aaron Kernis, Scott Lindroth, James Newton, Luigi Nono, Augusta Read-Thomas, Roger Reynolds, Terry Riley, Poul Rudders, Frederick Rzewski, Kaija Saariaho, Giacinto Scelsi, Elliott Sharp, Julia Wolfe, Toru Takemitsu, Jon Tavener, and Erki-Sven Tuur.

His compositions and performances are recorded on the Centaur, CRI, Crystal, Einstein, Koch, Mode, New Albion, New Dynamic, New World, Nonesuch, Tundra, and Tzadik labels. Recent works for instruments and electronics are available on Ecosphere a portrait CD/DVD on EMF, A Menacing Plume, a portrait CD on New World Records, and two new discs about to be released on Tundra/New Focus by the International Contemporary Ensemble.

Steiger is a Distinguished Professor, and holder of the Conrad Prebys Presidential Chair in the Music Department at U.C. San Diego and was a 2015 Guggenheim Fellow. In 2009 he was a Visiting Professor at Harvard University.