David Borgo
Integrative Studies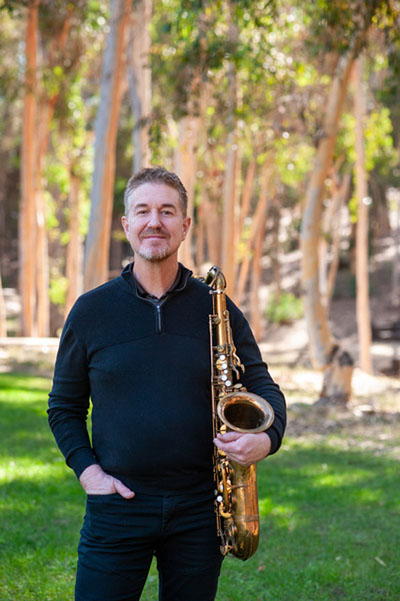 Phone: 858-822-4957
Office: CPMC 234
dborgo@ucsd.edu
David Borgo is a saxophonist, ethnomusicologist and Professor of Music at UC San Diego. He teaches in the Integrative Studies and Jazz and Music of the African Diaspora programs. David earned a B.M. in Jazz Studies from Indiana University (1990) and M.A. and Ph.D. degrees in Ethnomusicology from UCLA (1996, 1999). Throughout his career, he has integrated his creative work with scholarly research focused on the social, cultural, historical and cognitive dimensions of music-making. His primary areas of interest include improvisation, creativity research, technocultural studies, chaos and complexity, actor-network theory, and embodied, situated and distributed cognition.
As a saxophonist, David won first prize at the 1994 International John Coltrane Festival and he has performed throughout the United States, Europe, Asia and Latin America. He has released seven CDs and one DVD as a leader, including With and Against (Resurgent Music, 1999), Massanetta Springs (Circumvention Music, 2003), Reverence for Uncertainty (Circumvention Music, 2004), Ubuntu (Cadence Jazz Records, 2005), Initial Conditions (Circumvention Music, 2008), Chance, Discovery and Design (Circumvention Music DVD, 2008), Harvesting Metadata (pfMentum, 2010) and Micro Temporal Infundibula (pfMentum, 2010). He is a featured collaborator on many others. David currently performs with his electro-acoustic duo KaiBorg (kaiborg.com), which explores the intersections between live audio and video processing and free improvisation, and with his sextet Kronomorfic (kronomorfic.com), which explores polymetric time.
David's book, Sync or Swarm: Improvising Music in a Complex Age (Continuum International Publishing Group, hardcover with CD 2005, paperback 2006) won the Alan P. Merriam Prize in 2006 from the Society for Ethnomusicology as the most distinguished English-language book published during the previous year. Sync or Swarm looks through the lens of contemporary science to illuminate the process of improvising music and explores the ability of improvisation to offer a visceral engagement with the emerging scientific notions of chaos and complexity. The book takes a systems approach, as individual chapters expand outward in scope: from the perspective of a solo improviser (English saxophonist Evan Parker); to that of a group interacting in performance and over time (the Sam Rivers Trio); to the network dynamics that bind together performers, listeners, educators and promoters, among others, into a musical community. Each chapter is paired with a different aspect of the emerging sciences, including embodied cognition, nonlinear dynamics, self-organization, social networks and situated and distributed learning.
David's other scholarly work appears in Jazz Perspectives, Black Music Research Journal, Journal of Popular Music Studies, American Music, Journal of American History, Journal of Consciousness Studies, Parallax, The Pacific Review of Ethnomusicology, The Society for American Music Bulletin, and Open Space. He has contributed chapters to the edited volumes Playing Changes: New Jazz Studies (Duke University Press), Algebra, Meaning, and Computation (Springer-Verlag), Music as Performance: New Perspectives Across the Disciplines (University of Michigan Press), Sound Musicianship: Understanding the Crafts of Music (Cambridge Scholars Publishing), The Oxford Handbook on Critical Improvisation Studies (Oxford University Press), and Jazz (Ashgate Publishing).
David has performed and/or given invited talks at STEIM (the Studio for Electro-Instrumental Music in Amsterdam), SARC (the Sonic Arts Research Center at Queens University Belfast), The University of Göteborg, The University of Sao Paulo, Escuela National de Musica-UNAM in Mexico City, The University of Chicago, The University of Minnesota, The Herb Alpert School of Music (UCLA), NWEAMO (the Northwest Electro-Acoustic Music Organization), UCHRI's "State of the Arts" Festival, The Bronowski Art and Science Forum, the Osher Lifelong Learning Institute, Palomar College and the Conrad Prebys Music Center at UC San Diego. Additionally, he has presented research at conferences organized by the Society for Ethnomusicology, The Sonneck Society for American Music, The International Association for the Study of Popular Music, The International Society for Improvised Music, The International Association of Jazz Educators and the College Music Society, as well as at The Guelph Jazz Colloquium, The Improvising Across Borders conference at UC San Diego, The Leeds International Jazz Education Conference and the Conference on Interdisciplinary Musicology in Graz.
When he is not practicing, performing, doing research or preparing classes, David enjoys spending time with his wife and two boys and going for bicycle and motorcycle rides around the beautiful San Diego region.