David Borgo
Integrative Studies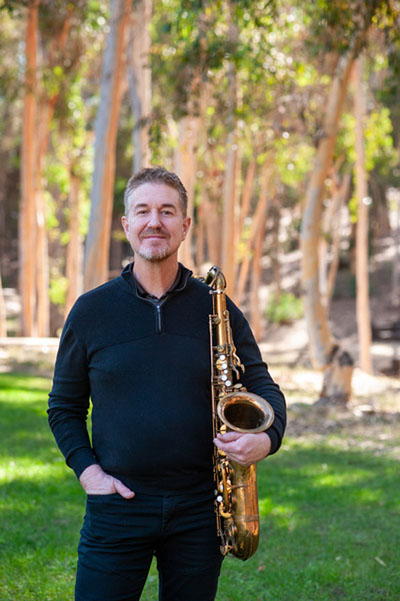 Phone: 858-822-4957
Office: CPMC 234
dborgo@ucsd.edu
Website | Publications | Music
David Borgo is an ethnomusicologist (Ph.D. 1999, UCLA), jazz saxophonist, and Professor in the Department of Music at UC San Diego. He joined the faculty in 2002 and served as the Department Chair from 2017-2020. He is affiliated faculty in Ethnic Studies and Cognitive Science, and he received a 2020 Diversity Equity and Inclusion Teaching Award. 
David's research, in addition to his prolific performing, composing and recording career, involves studying the field of musical improvisation using theories from cultural and cognitive studies, cybernetics, and the emerging sciences of chaos and complexity. His book, Sync or Swarm: Improvising Music in a Complex Age (Continuum, 2005), won the 2006 Alan P. Merriam Prize from the Society for Ethnomusicology as the most distinguished English-language book in the field. Sync or Swarm was published in revised edition by Bloomsbury Academic Press in 2022.  
David has also published research in prestigious journals, including: Jazz Perspectives, Jazz Research Journal, Black Music Research Journal, Journal of Popular Music Studies, American Music, Journal of American History, Journal of Consciousness Studies, Parallax and Open Space; and in the edited volumes: Sound Musicianship (Cambridge Scholars, 2012), Taking it to the Bridge (University of Michigan Press, 2013), Soundweaving (Cambridge Scholars, 2014), Negotiated Moments (Duke University Press, 2016), The Oxford Handbook of Critical Improvisation Studies (2016), The Springer Handbook of Systematic Musicology (2018), Music and Consciousness 2 (Oxford University Press, 2019) and The Routledge Companion to Jazz Studies (2019). David has given invited talks and/or performances at STEIM (the Studio for Electro-Instrumental Music in Amsterdam), SARC (the Sonic Arts Research Center at Queens University Belfast), The University of Göteborg, The University of Sao Paulo, Escuela National de Musica-UNAM in Mexico City, Jazz in the Native Yards in Cape Town, The University of Chicago, The University of Minnesota, The New York City Electroacoustic Improvisation Summit, The Herb Alpert School of Music (UCLA), NWEAMO (the Northwest Electro-Acoustic Music Organization), UCHRI's "State of the Arts" Festival, and The Bronowski Art and Science Forum, among others.
At the age of 24 David won the International John Coltrane Competition. Since then he has toured extensively, including performances in Europe, Asia, Africa, and North, Central, and South America, and he has released 14 CDs and one DVD of original music on a variety of record labels. David has been fortunate to study with and/or perform alongside many of the greatest jazz musicians, including Herbie Hancock, David Liebman, Billy Higgins, Kenny Burrell, Gerald Wilson, Harold Land, David Baker, Snooky Young, George Lewis, Evan Parker, Sam Rivers, John Tchicai, Anthony Davis, and Mark Dresser. In addition to jazz and improvised music, David performs electro-acoustic improvisation with his duo KaiBorg (kaiborg.com) and intricate polyrhythmic music with his sextet Kronomorfic (kronomorfic.com).
Borgo has the history of the music down pat... He touches on the past, teases with the future, but mainly speaks in the present tense — Frank Rubolino, All About Jazz
On soprano Borgo weaves delicate patterns across the music, while on other tracks he sets a classic big-hearted tenor sound in dialogue with avantgarde spikiness –  Nate Doward, Coda
... [a] modernist with a large record collection, big ears, and like-minded colleagues –  Stuart Kremsky, Cadence
Borgo's music splashes all over the jazz spectrum, from swing to free... [He] has a lovely warm tone on tenor sax and a gracious one on soprano –  Francois Couture, All Music Guide
There's a wonderful energy running throughout ... This is great music played with passion by great players –  Michael Bettine, Jazz Now
'Initial Conditions' will spend more time in your deck than any Wynton Marsalis record—or even anything Sonny Rollins has done in about 40 years. It's got the feel  -– Greg Burk, LA Weekly