Amy Cimini
Integrative Studies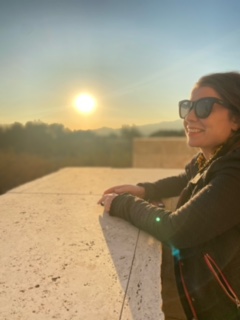 Phone: 858-822-0192
Off: CPMC 244
acimini@ucsd.edu

Amy Cimini is Associate Professor of Music at UC San Diego in the Integrative Studies Area. As a musicologist, teacher and musician, my work addresses power, community and technology in 20th & 21st century experimental music, sound art and auditory culture. My research methods connect archival research and oral history with experimental writing and performance, anchored by questions like: How do musical performance and technological mediation shape collective knowledge and practice? What ideologies of value and community shape practices of sound and listening in U.S. auditory culture after 1945, especially when viewed through the lens of understudied or marginalized figures and analytics of gender, race and class?  What theoretical frameworks can expand the concepts of body, life and materiality through which music studies register difference and power in analysis and historical narration? 
For the last few years, the work and musical thought of composer Maryanne Amacher have guided my inquiries across listening, gender and histories of US technoscience.  Spanning the early 1960s through the turn of the millennium, my book, Wild Sound: Maryanne Amacher and the Tenses of Audible Life (Oxford 2021) engages Amacher's approach to original presentational formats in existing and speculative media as engagements with sound and listening that conjoined real and imagined social worlds. The book discerns frameworks for life that emerged from Amacher's multidisciplinary study of auditory experience and engages, broadly, with how conceptualizations of sound can attach social value unevenly to bodies, materials and relations that has relevance across civic and environmental contestation, telecommunications and science and technology in the late 20th century U.S. I also co-edited Maryanne Amacher: Selected Writings and Interviews (Blank Forms Editions 2020) with composer and theorist Bill Dietz and engage with Amacher's  legacy through public presentation, performance and exhibition  as a member of the Supreme Connections Working Group and the Maryanne Amacher Foundation. You can watch an 9-episode conversation series between Dietz, myself and invited guests about Selected Writings and Interviews hosted by the New York Public Library here. 
I came to music studies through performance (viola) and musical practice and collaboration are key ways that I attend to how people and relations are differently valued in sites where music is made and circulated. This supports long-standing research interests in collaboration, embodiment, performance studies, problems in site-specificity, DIY practice and critical approaches to the archive. You can watch a solo performance at the San Diego Public Library here and listen, here, to my long-standing duo project,  Architeuthis Walks on Land with bassoonist and composer Katherine Young, on our album The Surveyors (Carrier 2014). 
At UC San Diego, I teach undergraduate courses on music history and culture as well as film and media as well as research and teaching methods. My graduate courses include Gender and Experimental Music; Arts of the Archive; Music and Affect; Music, Sound and Biopolitics as well as Introduction to Research and Teaching Methods. My teaching is committed to the analysis of power and the demystification of knowledge production and inherited hierarchies across all dimensions of music and research practice. 
I am Affiliate Faculty in Critical Gender Studies and currently serve as Director of Graduate Studies in the Music Department. I also serve on the editorial board of the journal Women and Music and take part in the Graduate Education Committee in the American Musicological Society. I am a founding member of the Music and Philosophy Study Group of the AMS and I also serve on the board of the Maryanne Amacher Foundation. I hold a Ph.D. in historical musicology from New York University and a B.A. in English and a B.M. in Viola Performance from Oberlin College and Conservatory. 
Selected Publications & Recordings: 
Wild Sound: Maryanne Amacher and the Tenses of Audible Life (Oxford University Press 2021) 
Maryanne Amacher: Selected Writings and Interviews (edited and co-authored introduction with Bill Dietz (Blank Forms Editions 2020).
"Inexhaustible Sound and Fiduciary Aurality." In Boundary 2 Special Issue on Sound and Value, ed. Jairo Moreno and Gavin Steingo. February, 2016. Co-authored with Jairo Moreno. 
"Telematic Tape: Notes on Maryanne Amacher's City-Links." Twentieth Century Music, Volume  14, Special Issue 1, pp. 93-108
"In Your Head: Notes on Maryanne Amacher's Intelligent Life." in The Opera Quarterly, ed. Emily Dolan. Volume 33, Issue 3-4, Summer-Autumn 2017. pp. 151-196. 
"Walking to the Gallery: Sondra Perry's 'IT'S IN THE GAME'  in San Diego in Five Fragments." In Sound Studies. Volume 4, 2018 Issue 2, pp. 178-200.      
"Music Theory, Feminism, the Body: Mediation's Plural Work." in Contemporary Music Review.  Volume 27, 2018. Issue 5-6. pp. 666-683.  
"We Don't Know That We Don't Know What a Body Can Do: Spinoza and Some Lives of Sonic Material," Intellectual History Review. Volume 30, 2020. Issue 3, pp. 465-488.
"Some Sounds and Shapes: Maryanne Amacher's Adjacencies," in Music from the World Tomorrow, Blank Forms Magazine, Vol. 2, pp. 247-268, Winter 2018
"Supreme Connections Meets Video City in Maryanne Amacher's Intelligent Life," Technosphere Magazine, Winter 2019
"June 21, 2018: Listening for Southwest Key in San Diego," Lateral Addition: Online Journal of Contemporary Sound, Summer 2018
 Architeuthis Walks on Land (2010) Natura Naturans. Carrier Records.
Architeuthis Walks on Land (2014).  The Surveyors. Carrier Records.
Architeuthis Walks on Land. (2016) Nine Two at Constellation. (live performance). Constellation. 
Architeuthis Walks on Land with exclusiveOR and International Contemporary Ensemble (2019). Modules. Carrier Records.
Anthony Braxton and the Tri-Centric Orchestra (2016). Trillium-J, The Un-Confessionables. Braxton House Records.
Cimini, Lesley & Neilsen Trio (2020), "Jessica." LIBROS Digital Yearbook 2019-2020.