Facilities
The Department of Music maintains highly sophisticated and continuously upgraded facilities for the support of graduate and undergraduate instruction.
The state-of-the-art Music Center at UC San Diego is open, thanks to the generosity of Conrad Prebys and the vision of Rand Steiger, formerly Chair of the University's Department of Music.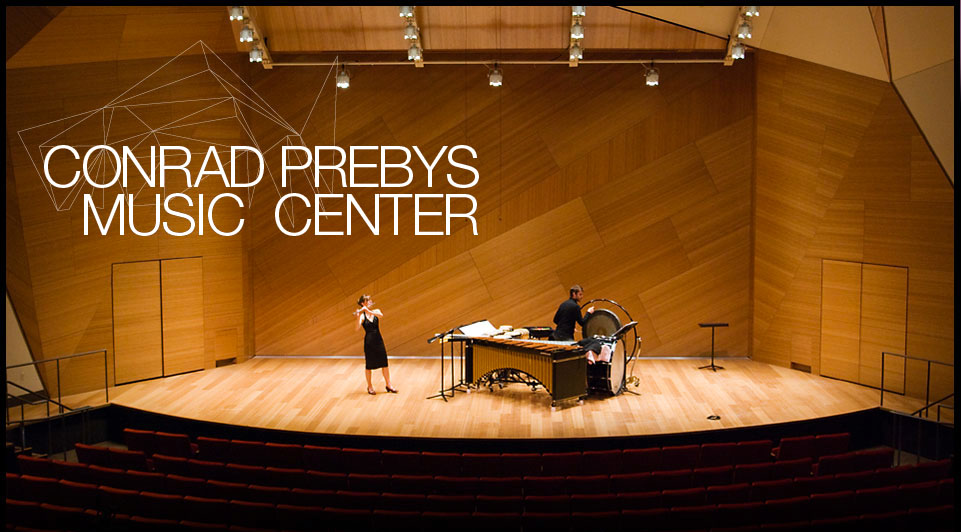 See our concert schedule.
Read about the Conrad Prebys Music Center Background.
Numerous naming opportunities are still available in the Conrad Prebys Concert Hall and throughout the Conrad Prebys Music Center. For more information, please visit our Giving Page.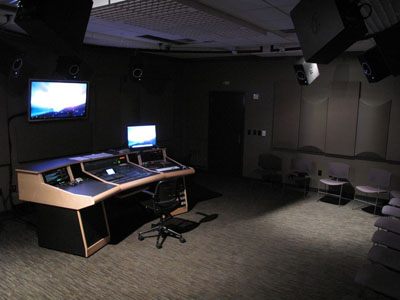 Established in 1987 to support undergraduate and graduate studies in computer music, CMIL now resides in a new 500-square-foot studio with machine isolation, acoustical treatment, mixer console, ergonomic workstation components, a high-resolution plasma screen, CD and DVD authoring, and integrated digital audio equipment for student access to audio processing, duplicating, high definition digital mixing and high-quality, multi-channel audio monitoring. The studio is built around a Yamaha DM2000 mixing console which is the central connection point for all digital and analog audio signals. The facility provides adequate space for instrumental rehearsal and interfacing experimentation and provides several firewire and USB audio interfaces for laptop computing.
Our server has high-speed network and wireless connections, mass storage, and archiving systems. Intel and Macintosh computer workstations run unique music software packages developed at UC San Diego. Pd is a new real-time, interactive musical and graphics programming environment written and under continuing development by Professor of Music Miller Puckette. Other audio and graphics editing and processing software packages are also supported, including ProTools HD, development compilers and several standard music production packages.
The facility is configured and optimized to support direct connection of musical instruments to computers for prototyping of real-time interactive performance and compositional projects using MAX/MSP/Jitter and Pd computer music software. It is also used for advanced seminars and classes in such topics as sound spatialization, music software programming, computer music techniques, repertoire analysis, and research.
This 1500-square-foot facility includes an acoustically designed live room with high ceilings, a wooden floor, and a control room with Genelec 5.1 surround monitoring. The studio houses a Macintosh system and many dedicated software packages for music production and recording, including a ProTools HD digital audio production package with 24 channels of digital I/O for precise digital recording and editing with Apogee convertors and Grace Design microphone preamps. The studio supports MIDI for synthesis, processing, and control in music composition and performance, and includes hardware and software for CD and DVD mastering.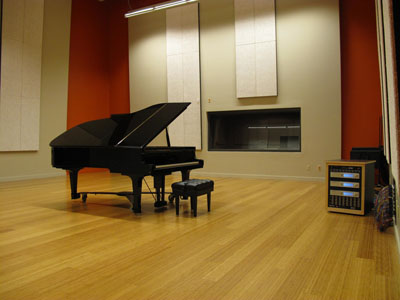 The department now has four 200-square-foot studios designed for individual work on computer music projects. Each studio is equipped with an eight-channel DAW (iMac with MOTU audio interface) and is acoustically treated. In addition, the four studios are designed with different orientations: one with equipment, monitoring and software to support video editing; one for recording, editing and mastering; one for work with MIDI synthesizers; and one with analog mixing and recording.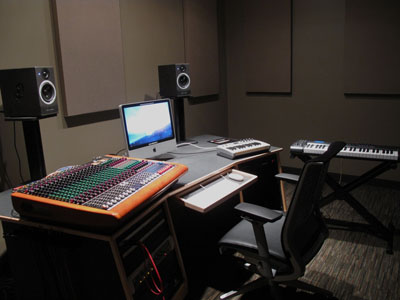 The 600-square-foot Instructional Computing Lab features 10 Intel iMac workstations and laptop work area. The composition work surfaces are based around Akai keyboard controllers. Software includes Ableton Live Suite 9, Max/MSP/Jitter 7, Soundhack, Pure Data, Sibelius 8, LogicX, and Adobe CS
Use of the lab is available to students in the enrolled in relevant Department of Music or ICAM courses.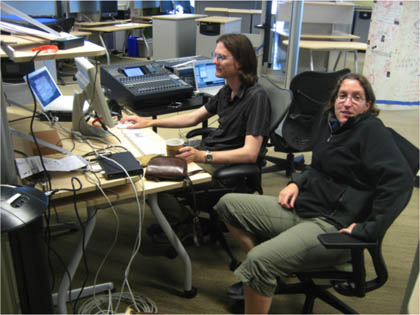 The Music Center features 10 Gb fiber connectivity to campus networking facilities, which are among the best in the world. This networking capability makes possible many types of experimental and next-generation application of media networking concepts, such as interactive collaborative performances and productions with distant locations that maintain the highest audio quality and low latency throughout. All instructional labs and all of the Department of Music's performance spaces and classroom spaces feature wireless and cabling for general purpose computing or media networking. All UC San Diego music production and research facilities are designed for ease of data portability and as complementary components of a powerful, well-designed, thoroughly integrated continuum of resources serving the needs of entering students through postdoc and faculty researchers. Additionally, there is wireless connectivity at most campus locations.
The Department of Music maintains an inventory of technology equipment available to music majors and graduate students for overnight and weekend checkout. Available equipment includes laptop computers with music software installed, firewire audio interfaces, MIDI keyboards and interfaces, microphones, cables and other recording and production sound equipment. This equipment is provided primarily to support class-related, dissertation, thesis and ICAM senior projects.
All faculty and most student concerts are recorded by professional staff or their assistants. Qualified students can utilize the department's extensive high-tech resources for experimental projects resulting in public performance and recordings of new works. Regularly released CDs, under advisement by faculty mentors, feature advanced graduate students who perform, compose, edit, and collaborate to produce a snapshot of musical achievement that predicts distinguished careers and new avenues of musical thought and practice.
The Department of Music has a state-of-the-art recording and faculty research complex, completely refurbished in 2004-2005, with studios designed to meet the following objectives:
Serve as an unsurpassed facility for recording and mastering classical and contemporary music
Serve as a reference-critical listening space for the evaluation of audio production
Support faculty research in psychoacoustics, computer music and digital signal processing (DSP) for audio
The facility incorporates two large recording studios (50' x 60') with variable wall and floor surfaces for diverse acoustical configurations, a control room (20' x 30'), an isolated machine room, and other support spaces. Warren Music Center Studios host live performances and are well suited for high-tech presentations and concert recording.

The Control Room features highly refined acoustic qualities and new all-digital mixing and editing systems including Pyramix and ProTools HD. ATC monitoring systems have been upgraded for surround sound. An excellent range of microphones supports an unusual array of recording possibilities; a fine selection of pianos, percussion, and electronic instruments is also part of the Control Room holdings. Graduate students may apply for staff positions and recording project support at Warren Music Center Studios, and ICAM majors may apply for engineering and production internship credits. The department's instructional labs are designed to serve as networked, media-compatible satellites to the Warren Music Center Studios.
The Arts Library (located in Geisel Library), recognized internationally for its contemporary music holidngs, maintains extensive collections of materials in all areas of music. In addition to its expansive ethnic music collections, the Arts Library also houses 32 media stations for playback of its recordings collection. Meanwhile, the library's Seminar Room is equipped with audio and video equipment for group presentations and its Digital Audio Reserves provides students with 24/7 access via the UC San Diego network to course listening assignments, which provides off campus access.