Music Intranet - Computing / Studios and Labs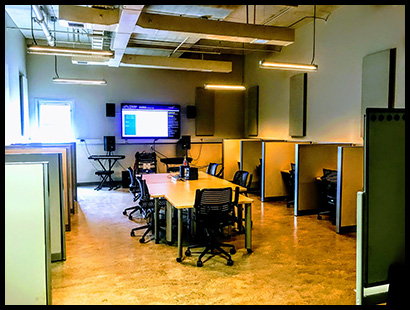 The 
Department of Music
, in conjunction with UCSD 
ETS
, in conjunction maintains a computing lab, a studio suite, and 4 project studios in CPMC along with various other resources for instructional computing.
For assistance within the CPMC 204 computing lab, contact the Instructor or TA for your course, or if the problem relates to specialized music software or peripherals, contact the Department of Music staff (Repair Form).
Department of Music Facilities:
Instructional Computing Laboratory - CPMC 204



The Project Studios


- Composition studio – CPMC 201
- Analog studio – CPMC 205
- Video studio – CPMC 206
- MIDI studio – CPMC 207



The ICAM Suite


- Computer Music Instructional Laboratory (CMIL) - CPMC 268
- Digital Music Recording Studios (DMRS) - CPMC 269
Students enrolled in Department of Music courses that require computers, may receive access to CPMC 204. For access to the ICAM Suite or project studios, contact Tom Erbe or King Britt.
Please do not attempt to move or removed equipment that is locked or tied down. If you need a controller, mouse or keyboard, see Brady in CPMC 109. Feel free to e-mail icamtech@music.ucsd.edu to request changes to the studios and labs.
Student Orgs interested in using these spaces, should contact icamtech@music.ucsd.edu for information on making the space request.
The purpose of the studios and lab is to support course-work for Department of Music courses. This includes senior projects and graduate work.
In general, if you see software on a lab computer (in the /Applications folder on Mac OS X), it should work just as it would on another other computer (or we will have documentation on how it is different in the lab). We rely on the users of the lab to report problems using the above Repair Form.
Current or previous enrollment in courses or approval of one of the technology faculty is required for access. To request keycard access to spaces using the Access Card & Key Request Form.
Instructional Computing Lab (CPMC 204)
12 Intel iMacs (7 from ETS and 5 from Music), 2 audio interfaces, 6 MIDI controllers, Mixer w/Studio Speakers, 80" Display, Nord Electro 6D.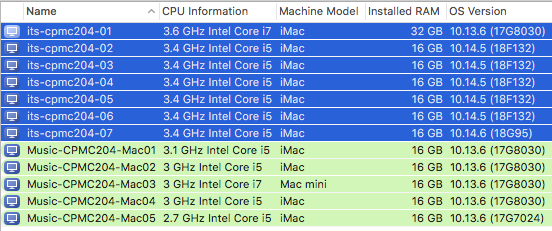 Project Studios (CPMC 201, 205, 206 and 207)
4 iMacs with MOTU audio interfaces, Doepfer Modular Synthesizer, TOFT Console, various MIDI modules, Nord Electro 6D and Piano 4 keyboards.
ICAM Suite
Pro Tools HD, Avid S3, Ableton Live Suite, Surround Playback, Make Noise (and other) Modular Synthesizer, OB-6,  Nord Piano 4
CPMC 204 Software Overview:

In order to provide a diverse selection of modern music and production software with the flexibility to upgrade, the CPMC Instructional Computer lab has 2 sets of computers - those supported (and funded) by the campus ITS/ETS and those supported by the Music Department. The software is similar (with some minor version differences).
The ITS-CPMC204-01 "Instructor iMac" at the front/right of the room has the most sofware. In addition to the standard suite, it also has Adobe CC, NI Komplete and the iZotope Music Production Suite. All of  the ITS computers include all of the Ableton Live packs, Sibelius, Adobe Reader, Lilypond and Microsoft Office. 
The Department of Music computers and ITS-CPMC204-01 all run OS X 10.13.6. The remaining 6 ITS computers run OS X 10.14.
CPMC 204 ITS Standard Setup 2019:

You will find the following software on the ITS computers:
Ableton Live Suite 10.1 (all packs, plus M4L Big Three, M4L Building Tools, Pitch and Time, M4L Essentials, Samplification)

Audacity 2.3.2 (with MP3 encoder)

Google Chrome 77.0 (auto updates)

KeyNote 9.1, Numbers 6.1, Pages 8.1

Logic X 10.4.6 ("Essential Sounds"), GarageBand 10.3.2

MusicScore 3.2.3

Pd 0.50-0, Pd extended 0.43-4

Safari 12.1.2, XCode 11.0, iTunes 12.9.5

Sassafras K2 7.6

Sibelius 2019.7

Skype 8.51, Zoom (works with "download & run Zoom")

Soundhack .896

VLC 3.0.8

JackOSX 0.91

Acrobat Reader DC 19.012

Firefox 68.0

Lilypond 2.18

Microsoft Office 16.27
In addition:
The ITS-CPMC204-01 "instructor iMac" has: Max 8, Adobe CC 2018, iZotope Music Production Suite (Nectar 2, Neutron 2, Ozone 8 Adv, RX 6, Trash2, VocalSynth), Pro Tools 12 2019.6, Komplete 12 (Contact Factory and most items smaller than 3GB)
CPMC 204 MUSIC Standard Setup 2019:
Ableton Live Suite 10.1 (Core Library, plus M4L Big Three, M4L Building Tools, Pitch and Time, M4L Essentials, Samplification)

Audacity 2.3.2 (with MP3 encoder)

Final Cut Pro 10.4.6
Free MP4 Converter
Google Chrome 77.0
KeyNote 9.1, Numbers 6.1, Pages 8.1
Native Instruments - Kontakt 5.8.1 (w/Kontakt Factory Selection), Native Access
Logic X 10.4.6 (all Sounds except Legacy and Apple Loops), GarageBand 10.3.1
Max 7.36
MusScore 3.2.3
Pd 0.50, 0.46-7, 0.48-2
Pd extended 0.43-4
Safari
Sassafras K2 7.5.03
Sibelius (on ITS iMacs and Music-CPMC204-Mac03 only)

Skype 8.52, Zoom (works with "download & run Zoom")

Soundhack .896 (and freeware plugins)
VLC 3.0.4
XCode 9.4.1
iTunes 12.8.2
In addition:
The MUSIC-CPMC204-MAC05 instructor iMac has: Blend, Splice
CPMC 204 has the following MIDI Controllers:
Music-CPMC204-Mac01: Akai MPK 25
Music-CPMC204-Mac02: Akai MPK Mini
Music-CPMC204-Mac03: Akai MPK Mini
Music-CPMC204-Mac04: Akai MPK Mini
Music-CPMC204-Mac05: Akai MPK 25
ITS-CPMC204-01: Komplete Kontrol 25
See Brady in CPMC 109 for checkout controllers.
There is no printing available for students in CPMC. Printing is supported through the ETS printing environment. The nearest available ETS printers are located in the Pepper Canyon lab or in the Price Center.  Graduate Music students can print to the printer in the WLH Graduate Work Room or in the Graduate Mail Room.
Multi-Channel audio output to speakers is supported in the studio suite and 268 and 269.The CPMC 204 instructor station ("ITS-CPMC204-01") can play to the room speakers. All computers have stereo audio output via headphone jacks and some have audio interfaces or external speakers.  Students are encouraged to be respectful of their peers and bring headphones.
The Department of Music provides gear for 48-hour checkout. This includes, but is not limited to, laptops, firewire drives, software dongles and audio equipment –  See the Equipment Checkout Request for more information.
Documentation and Additional Help:
See your TA for documentation and help in the studios and labs.
Graduate computing resources:
In addition to the above, the following resources are available: 

Graduate Work Room
Graduate Mail Room
TA Offices (CPMC 243, 245)