Edwin Harkins
Performance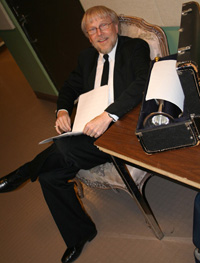 eharkins@ucsd.edu

PhD, U. of Iowa (composition), MM, Yale U. (performance. Harkins studied composition at Yale U., the U. of Chicago and the U. of Iowa where he received a PhD. His teachers included Mel Powell, Ralph Shapey and Kenneth Gaburo. He received awards from the St. Louis Symphony, the Pacifica Foundation in San Francisco and the Composers Conference in Vermont. In 1977 Harkins, with Philip Larson, founded [THE] a composer/performer duo that has performed its works at the Paris Autumn Festival, Music Today in Tokyo, the Darmstadt Ferienkurse, the Inter-Society for the Electronic Arts in Rotterdam, the Suzuki Theater Festival in Japan, the New Music America Festival in Chicago and PICA in Perth, Australia. They have collaborated with John Cage, Toru Takemitsu, Anthony Braxton, and with media artist Vibeke Sorensen with whom they made an award winning video that has been shown at the SIGGRAPH conference in Los Angeles as well as festivals in Rio de Janeiro, Copenhagen, Seattle, Souillac, France, and Madrid. [THE] has received grants from the NEA, the California Arts Council and the Asian Cultural Council.
Harkins studied music theory with Leonard Meyer, Allen Forte, Richmond Browne and Gunther Schuller and taught at the New England Conservatory of Music as a music theorist.
As a performer Harkins received a MM from Yale University. For ten years he was a member of the Extended Vocal Techniques Ensemble, a quartet that was one of the first groups to systematically study and experiment with extended techniques. They performed at the Holland Festival, The Bourges Festival in France, Musik der Zeit in Koln, the Paris ARC, Fylkingen in Stockhom, and in Montreal, Toronto and Vancouver. They performed works by Joan LaBarbara and Joji Yuasa and recorded works by Roger Reynolds among others.
Harkins studied trumpet with Robert Nagel , Renold Schilke and with Roger Voisen at Tanglewood. He has performed as a soloist at the Darmstadt Ferienkurse, the Cabrillo Festival, The Los Angeles Philharmonic's Green Umbrella Series, Prime Foundation in Groningen, Holland, New Music America in San Francisco, the Knitting Factory in New York City, two International Computer Music Conferences, and the University of Mexico in Mexico City. Harkins performed with the New Haven and San Diego Symphonies, and was a soloist at the Basically Baroque Festival with Joseph Marx, director and with the La Jolla Chamber Orchestra, conducted by Rafael Druian. One of the first to experiment extensively with new techniques on the trumpet he was a guest lecturer at an International Trumpet Guild convention. He has been a guest soloist with the Continuum Ensemble in New York and the Arch Ensemble in San Francisco and continues to perform with Sonor at UC San Diego where he has taught since 1972. He was a member of three Rockefeller supported New Music ventures including the Contemporary Chamber Players at the U. of Chicago with Ralph Shapey, conductor, The Center for New Music at the U. of Iowa and the Center for Music Experiment at UC San Diego. His many recordings include works by Iannis Xenakis, Bernard Rands, Roger Reynolds and his acclaimed recording of Kryl by Robert Erickson.
Harkins has improvised/performed with Vinko Globokar, Mark Dresser, George Lewis, Anthony Davis, Vinny Golia, Colin Wolcott, Al Jarreau and Little Anthony and the Imperials and has published a Maynard Ferguson discography.
One of Harkins primary research activities is the study of rhythm. In the early 1970's he designed and built, with Rob Gross, a programmable rhythm sequencer and designed a computer program for rhythm input. An expert at complex rhythms he has taught and lectured internationally and is currently writing a book on the subject.
For videos of Edwin Harkins and Philip Larson [THE] go to - http://harkinslarsonthe.com.
images | audio | discography