Pauline Oliveros
Composition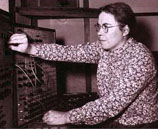 Pauline Oliveros, the visionary composer, performer and teacher who co-founded the Department of Music at UC San Diego in 1967, died Thursday in her sleep at her home in Kingston, N.Y. She was 84.
Oliveros' death was announced by renowned flutist Claire Chase, a San Diego native. Chase is the co-founder of the International Contemporary Ensemble, which often performed Oliveros' groundbreaking music.
"I am unmoored by the loss of Pauline, but I know she would want to me to step up and find words," Chase said, via email, Sunday.
"I have known Pauline from the time that I was a baby, and always admired her as a fierce, kind, bad-ass, and courageously original spirit. Pauline followed her own star wherever it led her … humble, devoted, extravagantly curious, effortlessly prolific, and deeply gifted in the way that the greats are. Bach, Schubert, Messiaen, Cage — Pauline is one of them, holding her own. We are so lucky to have known her." 
Oliveros' final concert was Nov. 10 at the Jewish Museum in Manhattan, where she played her futuristic V accordion. The digitally enhanced instrument enabled her to sound like she was performing on a conventional accordion one moment and an array of orchestral instruments the next.
One of her most important innovations was the concept of "deep listening," which Oliveros began developing in the late 1980s. It was an approach she described as "hear with your ears, listen with your heart" and as "exploring the difference between the involuntary nature of hearing and the voluntary, selective nature — exclusive and inclusive — of listening."
"Pauline was a visionary," said UC San Diego music professor and acclaimed bassist Mark Dresser, who studied with Oliveros at the La Jolla campus in the 1970s.
"She was a pioneering woman composer in electronic music, telematics — which enables musicians to perform in real time with musicians in other cities and countries. She also developed adaptive instruments for the disabled and was noted for her sonic meditations and writings," Dresser said. 
"She trained generations in the practice of listening as consciousness, mixing meditative practice and breathing techniques from qigong, with the emphasis on listening, tuning and feeling." he said. "She was the first openly gay musician that I knew and had a first wedding ceremony in the early 1970s. And, besides being wickedly smart, she had a great sense of humor. I recall at New Music America in Houston she wore a top hat and a sandwich board reading, 'Hire a Composer'."
In the early 1960s, Oliveros hooked up multiple reel-to-reel tape recorders to create feedback, echo and tape delays in her compositions, which found her using electronics in real time. Her work from this period is documented on "Reverberations: Tape and Electronic Music, 1961-1970," a 12-CD box set released in 2012. 
An early champion of synthesizers, Oliveros could also be playful, at one point using her bathtub as a reverb unit. On a far more serious note, her haunting 1971 composition, "Sonic Meditations," was inspired by her shock and dismay about the then-ongoing war in Vietnam. Her 1989 album, "Deep Listening," was recorded in a disused cistern 14 feet beneath the ground. 
"I've always created situations or structures that challenge the status quo," Oliveros told The San Diego Union-Tribune in an interview prior to one of her early 1990s concerts at UCSD, where she headed the Center for Music Experiment from 1976 to 1979.
"I do that to unseat some of the habits that one might have and allow one to become exposed to something different, or some other alternative. Because having a particular routine or ritual sometimes leads to not hearing something else."
Her bold work as a composer, performer and conceptual maverick were hailed Sunday by UCSD music professor Steven Schick, the longtime music director of the La Jolla Symphony & Chorus. He featured two of her compositions, "Rock Piece" and "Thirteen Changes: For Malcolm Goldstein," at the Ojai Music Festival last year, for which Schick served as the 2015 music director. 
"Pauline's music, like her spirit, was rich, generous, and welcoming," said Schick, who knew Oliveros for more than 20 years. "With every encounter, Pauline demonstrated that listening was the most respectful and rewarding way to meet the world. Oh, how we need that now!"
Born in Houston on May 30, 1932, Pauline Oliveros was fascinated as a child by the special effects she heard on such radio dramas as "The Lone Ranger" and "The Shadow."  She was also intrigued by the static produced when trying to tune in distant radio stations. 
Oliveros took up the accordion when she was 9, followed by the French horn and tuba. She studied music at the University of Houston. At the age of 20, armed with $300 and her accordion, she moved to San Francisco in search of new musical adventures. She soon found plenty of them.
Oliveros studied at San Francisco State University and met such budding minimalist music icons as Steve Reich and Terry Riley, whose debut concert of his seminal 1964 opus, "A Rainbow in Curved Air," featured Oliveros. In the early 1960s, she also became a key force at the San Francisco Tape Music Center, which was launched by Ramon Sender and Morton Subotnick as an incubator for innovative aural adventure.
In 1965, she began developing her Expanded Instrument System, a computer program for music that she continued expanding and refining through this year. There are far more women composers and musicians now than when Oliveros started, but she definitely stood out earlier in her career.
"One really got the sense that being a woman composer was a hard road back in those days," said San Diego composer Joe Garison, who provided technical support at Oliveros' UCSD concerts in the late 1960s. "You could sense there were road blocks."
Even so, Oliveros was undaunted.
"I didn't think of myself as a woman composer," she told the Union-Tribune. "I just thought of myself as a composer. Because I saw my mother doing some improvisations and composing pieces, and I saw pictures of women as composers on the front of pieces of music, and because I was really coming from an inner impulse, it didn't occur to me I shouldn't do it."
After she left UCSD in 1981, she settled in New York where she founded the nonprofit Pauline Oliveros Foundation. It was created to nurture and support adventuresome musicians and composers. She went on to write at least five books.   
In 2012, Oliveros received the John Cage Award from the Foundation for Contemporary Arts. Her opera, "The Nubian Word for Flowers," debut in 2013 in Los Angeles.
"When her muse led her, as it has done powerfully in the last few years, to the realm of opera, she followed it with such ferocity that she was writing music until her last hours," International Contemporary Ensemble mainstay Chase said.
"Pauline wrote the very first piece for my ensemble, ICE, in the year 2000, and was one of the earliest advisers and supporters in the formation of the ICE idea. She was simultaneously the most demanding and the kindest mentor I have ever had. In recent years we played more together, and I was honored to have commissioned her for a piece for my Density 2036 project last year called 'Intensity 21.5, a Tribute to Grace Chase.'
"As Pauline was a kind of adopted grandmother figure for me, she was curious about my real grandmother, and we developed a piece in her honor that used her Expanded Instrument System. Shaping, learning, and ultimately performing that piece with Pauline was one of the high points of my creative life thus far. I have no words to express my gratitude for this woman and what she has done for me, for my colleagues, and for the field — so I will do what she would want me to do, which is to leave words aside and to make music." 
In a 2012 interview with Art Forum, Oliveros marveled at her longevity in music. 
"Turning 80 has been fantastic. … I thought this would be a relaxing time in my life — a time to retire!" she said. "I was wrong."
At the time of her death, she was the Distinguished Research Professor of Music at Rensselaer Polytechnic Institute in Troy, N.Y., where she headed the Institute for Deep Listening. She was also the Darius Milhaud Artist-in-Residence at Mills College in Oakland.
From: George Varga, San Diego Union Tribune
http://www.sandiegouniontribune.com/entertainment/music/sd-me-pauline-oliveros-obit-20161127-story.html