Roger Reynolds
Composition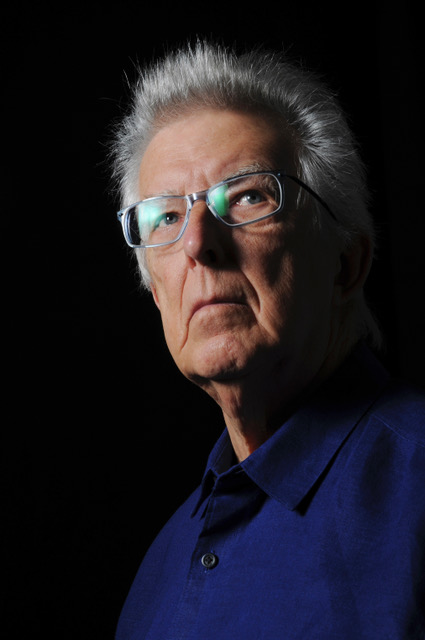 Phone: 858 534-3230
Off: CPMC 351
info@
rogerreynolds.com

Website | Publications | Images |Audio | Wikipedia | Discography 
Was educated in music and science at the University of Michigan. His compositions incorporate elements of theater, digital signal processing, dance, video, and real-time computer spatialization, in a signature multidimensionality of engagement. The central thread woven through Reynolds' uniquely varied career entwines language with the spatial aspects of music. This center first emerged in his notorious music-theater work, The Emperor of Ice Cream (1961-62; 8 singers, 3 instrumentalists; text: Wallace Stevens), and is carried forward in the VOICESPACE series (quadraphonic tape compositions on texts by Coleridge, Beckett, Borges and others), Odyssey (an unstaged opera for 2 singers, 2 recitants, large ensemble, multichannel computer sound; bilingual text: Beckett), and JUSTICE (1999; soprano, actress, percussionist, computer sound and real-time spatialization, with staging; text: Aeschylus). In addition to his composing, Reynolds' writing, lecturing, organization of musical events and teaching have prompted numerous residencies at international festivals. He was a co-director of the New York Philharmonic's Horizons '84, has been a frequent participant in the Warsaw Autumn festivals, and was commissioned by Toru Takemitsu to create a program for the Suntory Hall International Series. Reynolds' regular masterclass activity in American universities also extends outward: to the Sibelius Academy in Helsinki, Ircam in Paris, to Latin America and Asia, to Thessaloniki. His extensive orchestral catalog includes commissions from the Philadelphia, Los Angeles and BBC Orchestras.
In 1988, perplexed by a John Ashbery poem, Reynolds responded with Whispers Out of Time, a string orchestra work which earned him the prestigious Pulitzer Prize. Critic Kyle Gann has noted that he was the first experimentalist to be so honored since Charles Ives. Reynolds' writing, beginning with the influential book, Mind Models (1975), has appeared widely in Asian, American and European journals, while his music, recorded on Auvidis / Montaigne, Mode, New World, and Neuma, among others, is published exclusively by C.F. Peters Corporation, New York.
In 1998, Mode Records released WATERSHED, the first DVD in Dolby Digital 5.1 to feature music composed expressly for a multichannel medium. "As in all art making, there is a kind of 'alchemy' going on [producing] a richly nuanced and authentic result," wrote Richard Zvonar in Surround Professional. In the same year, The Library of Congress established the Roger Reynolds Special Collection. Writing in The New Yorker, Andrew Porter called him "at once an explorer and a visionary composer, whose works can lead listeners to follow him into new regions of emotion and meaning."